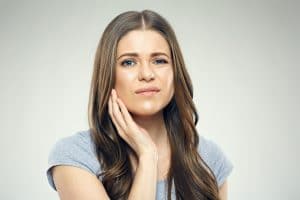 Are you giving dental pain the attention it deserves? If you want to keep your smile safe against potentially serious oral health threats, you should take note when you experience persistent discomfort. This may be in the form of a toothache, or a tooth that is uncommonly sensitive. Your Allen, TX dentist's office can address problems concerning dental pain, so you can enjoy relief. While tooth pain is certainly something to watch out for, you should not think of it as the only kind of dental discomfort worth your concern. Pains in your head, face, neck, and jaw could be a sign that you need to do something about TMD. Your dentist can identify when a person is suffering from TMD, and help provide the necessary support.
Addressing Persistent Tooth Pain
A persistent toothache, or tooth sensitivity, can be a sign that something is wrong within your tooth. You may hear this referred to as an endodontic problem. In cases where the interior of your tooth is damaged or infected, a root canal procedure can be necessary. If you ignore a problem of this nature, you should be aware that you could be putting your tooth in jeopardy. If an infection has time to spread beyond the interior of your tooth, by moving through your root, it may reach a point where there is no way to save it.
Should I Be Concerned About Possible Signs Of TMD?
As a person's TMD worsens, they can experience daily discomfort, and struggle with limited dental function. Your dentist can recognize signs of TMD, which refers to issues with your jaw joints, and help you respond to your ongoing problems. An oral appliance may be needed to help correct the alignment of your jaw joints, which can lead to relief.
Talk To Allen Family Dental To Have Ongoing Dental Pain Addressed
At Allen Family Dental, patients who are experiencing discomfort can look forward to modern care in a supportive practice when they schedule an appointment. Our practice is proud to offer a variety of restorative services, in addition to routine care. To set your appointment with Dr. Torrens-Parker or Dr. Lizardi, call Allen Family Dental in Allen, TX, today at (469) 342-6644. Located in Allen, we also proudly welcome individuals from Frisco, Plano, McKinney, Fairview, and all surrounding areas.