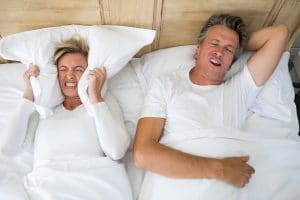 Snoring can create an uncomfortable situation during the night when you sleep near, or next to, another person. People who snore make noise because of a partial blockage of their airways by soft tissues in their throats. The disruption of those soft tissues leads to the lumbering, rumbling sounds that can make nighttime too loud. Your Allen, TX dentist can provide you with a snoring solution that helps you sleep quietly. A specially made snore guard can be worn when you go to bed – when in place, it can adjust your jaw in order to stop your airways from becoming blocked. This appliance can help with snoring, and it can help some patients suffering from obstructive sleep apnea.
Understanding How A Custom Snore Guard Helps You Sleep Peacefully
A snore guard can comfortably adjust the position of your jaw, so that your airways remain free of obstruction. This correction will help you breathe clearly, sleep quietly, and let you enjoy a peaceful night. If you are experiencing mild or moderate obstructive sleep apnea, the use of a snore guard can lead to better sleep, and help you avoid health issues.
Seeing Your Dentist Regularly Can Lead To Having Many Problems Identified And Treated
When you enjoy regular dental exams, you can learn more about the variety of oral health services that are available to you. If you only think about your dentist as being able to treat cavities, you can miss out on important benefits of care. When it comes to sleep troubles, your dentist can help you deal with snoring, and painful problems caused by teeth grinding and TMJ dysfunction. As with snoring, TMJ dysfunction and teeth grinding can be addressed with a custom oral appliance.
Talk To Allen Family Dental About Addressing Your Snoring Problem
At Allen Family Dental, you can enjoy help with an ongoing snoring problem. Through the use of a snore guard, it becomes possible to keep your breathing passages open, so you can enjoy better rest without making disruptive snoring sounds. To arrange your consultation with Dr. Torrens-Parker or Dr. Lizardi, call Allen Family Dental in Allen, TX, today at (469) 342-6644. Located in Allen, we also proudly take care of patients from Frisco, Plano, McKinney, Fairview, and all surrounding communities.