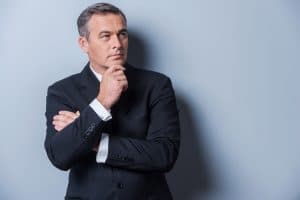 When it comes to restoring dental function, and your comfort, the stability of your dental prosthetic is certainly important. You would certainly have a hard time biting and chewing with loose teeth, so there is obviously a disadvantage to settling for a less than secure restoration. A dental bridge allows you to replace a lost tooth, or several adjacent teeth. Because it is supported by a pair of dental crowns, you can count on your bridge to make it easier to feel as though you have your complete smile once again. Bridges also have an obvious cosmetic benefit, as they are made to fit in with your surrounding natural teeth.
A Permanent Prosthetic Can Transform Your Smile
A permanent prosthetic can have a positive effect on your dental function, and it can give you renewed confidence in your smile. It can be hard to feel confident when you show off an incomplete set of teeth. Even if you manage to keep your gap hidden when you smile, you can feel uncomfortable eating because of the way that absence impacts you. By securing a dental bridge, your dentist can allow you to feel great about your looks, and your ability to bite and chew.
Talking To Your Dentist About Having A Restoration Supported By A Dental Implant
A dental bridge is not the only approach to prosthetic dentistry that will allow you to keep your restoration stable. Dental implants have made it possible to permanently secure a prosthetic in a way that imitates the support a tooth has thanks to its root. If you are approved for dental implant placement, you can count on this small titanium post to fully support your prosthetic. In addition to offering cosmetic and restorative benefits, this will help you maintain the health of your jawbone, something that becomes difficult after tooth loss.
Talk To Allen Family Dental About Receiving A Dental Bridge
At Allen Family Dental, you can find out how a dental bridge can give you back your full smile! To set up a consultation with Dr. Torrens-Parker or Dr. Lizardi, call Allen Family Dental in Allen, TX, today at (469) 342-6644. Located in Allen, we also proudly welcome patients from Frisco, Plano, McKinney, Fairview, and all surrounding areas.