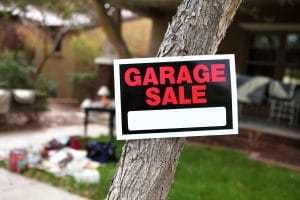 When you need to review the health of your smile, you can count on great dental care during a routine exam with your Allen, TX dental practice. When you need to take stock of your home inventory, few things beat a garage sale. You can look for great deals on a variety of different items, or you can take an opportunity to clear out your house and make some cash at Allen's Community Garage Sale event! On Saturday, July 14, the Joe Farmer Recreation Center parking lot will be set up with spaces for area families to offer up products for sale. 
When:
The Community Garage Sale is being held on Saturday, July 14. The sale will run from 7 am until 12 pm.
Where:
The sale will be held in the parking lot of the Joe Farmer Recreation Center.
Cost:
Attending as a shopper is free. An individual vendor space is available for $20, two spaces are available for $35, and three can be secured for $50.
Activities Include:
During the Community Garage Sale, you can pick up great items at a low price, or you can create space in your home or garage by selling things you no longer need.
For More Information:
For more information about this event, click here.
Schedule Your Next Dental Visit At Allen Family Dental
At Allen Family Dental, you and your family can enjoy great dental care. Our practice is ready to take care of you during a routine exam, and we can deliver terrific results when you need restorative or cosmetic work. To set up a consultation with Dr. Torrens-Parker or Dr. Lizardi, call Allen Family Dental in Allen, TX, today at (469) 342-6644. Located in Allen, we also welcome families from Frisco, Plano, McKinney, Fairview, and all surrounding areas.