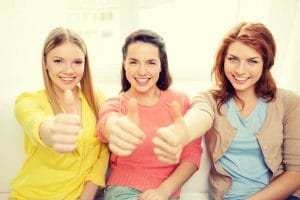 You should take time out of each day to take care of your smile. The daily efforts you put into brushing and flossing, and the attention you give to your diet choices, will have a big impact on your relative success in avoiding problems like tooth decay and gum disease. With this in mind, you may wonder if you can do enough on a daily basis to protect your smile to make regular dental exams unnecessary. The problem with this thought is that you may not realize just how much you benefit from these appointments. Between the evaluation performed by your dentist, and the professional teeth cleaning provided by your hygienist, you are enjoying valuable preventive services every time you come in for care.
1. The Regular Removal Of Tartar, And Other Harmful Materials From Your Teeth
One major advantage a professional cleaning has over your daily oral care regimen is that your professional cleaning will lead to the removal of any tartar accumulated on your teeth. Brushing and flossing diligently will certainly help you limit the chances of tartar buildup. Unfortunately, when this substance does form, it will stay in place until your hygienist removes it.
2. Early Detection And Treatment For Cavities
Your dentist is watching for any signs of decay on teeth that will make restorative dental care necessary. You can certainly feel the effects of an advanced cavity, but a cavity that is newly formed may not draw your attention. If your dentist identifies the formation of a small cavity, they can address it before it has a chance to do further harm.
3. Regular Checks For Other Oral Health Troubles
Your dentist will help you keep your smile cavity-free. They will also look for any symptoms of problems like gum disease, TMJ dysfunction, and oral cancer when you have your evaluation.
Talk To Allen Family Dental About Arranging A Dental Cleaning And Exam
Patients who schedule care at Allen Family Dental can count on excellent oral health care every time they come in for a routine appointment. Our practice is committed to delivering a thorough evaluation and dental cleaning every time you come in for a checkup. To book your appointment with Dr. Torrens-Parker or Dr. Lizardi, call Allen Family Dental in Allen, TX, today at (469) 342-6644. Located in Allen, we also proudly welcome individuals from Frisco, Plano, McKinney, Fairview, and all surrounding communities.