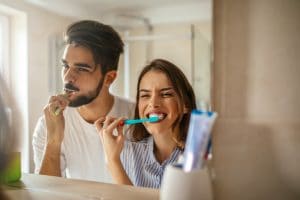 Your efforts to defend your smile against cavities should be consistent – after all, oral bacteria never take a holiday! Making sure preventive care in the form of brushing and flossing your teeth is baked into your daily routine will help you make sure your oral health needs are being met. This means ensuring you have time in the morning to clean your teeth before walking out the door and heading to work. It also means carving out time for additional cleaning efforts. Effective brushing and flossing efforts are crucial if you want to avoid an accumulation of tartar, and problems like tooth decay and gum disease. Of course, even if you stay on top of your daily dental health needs, it is still important to make time for routine dental exams.
Why You Need To Brush And Floss If You Want To Fully Protect Your Smile
Brushing and flossing can help you fully protect your smile. Flossing is a necessary part of this process because your toothbrush can fail to access the areas between your teeth. Failing to make sure these spaces are kept clean can raise your risk for tooth decay and gum disease. Simply adding an extra brushing session to your routine will not make up for flossing, as the same areas between teeth can be overlooked.
What Makes Professional Teeth Cleanings So Important?
Professional teeth cleanings occur at every dental exam. As valuable as daily dental care can be for your oral health, professional care is still something you should seek for yourself. Your hygienist can remove any tartar from your teeth, and they can clear away harmful accumulations of bacteria and food debris that might reside in hard-to-reach spaces.
Talk To Allen Family Dental To Learn More About The Importance Of Expert Regular Care
At Allen Family Dental, your oral health needs are taken seriously – our practice strives to help every one of our patients enjoy their best, healthiest smile. To book a consultation with Dr. Torrens-Parker or Dr. Lizardi, call Allen Family Dental in Allen, TX, today at (469) 342-6644. Located in Allen, we also proudly welcome patients from Frisco, Plano, McKinney, Fairview, and all surrounding areas.