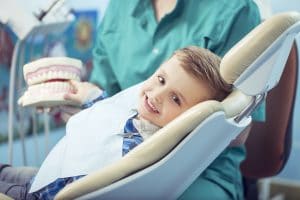 You may have some concerns about starting dental care for your child. You may worry that they are too young to start treatment, or that the experience might be upsetting to them. What you should know is that your dentist can make sure kids feel at ease when they come in for an appointment, especially when it is their first time. A first visit, which may be referred to as a Happy Visit, should take place around a child's second birthday. Rather than performing a standard preventive dental exam, your dentist will simply try to make them comfortable at the office, and in the dentist's chair. When they are given a warm, welcome introduction to dental care, kids can feel more at ease when it is time for them to undergo preventive treatment. 
Ongoing Pediatric Dental Care Can Offer Long-Term Benefits
Effective pediatric care can be easier to provide when kids feel at ease with their dentist. When young patients are happy to come in for treatment, they can be less likely to have anxiety about treatment as an adult.
Helping Your Child Practice Smart Care On A Daily Basis
If you want to keep your child's smile safe, and free from problems that would require restorative dental care, make sure they enjoy professional pediatric dental care. In addition to this professional treatment, you should pay attention to make sure they are caring for their teeth at home. While your dentist can help kids practice brushing and flossing, you should check in to make sure they are taking care of their smile on a daily basis.
Schedule Your Child's First Dental Visit At Allen Family Dental
At Allen Family Dental, we are proud to offer expert treatment for young smiles. Our practice can help make sure your child feels at ease in the dentist's chair during their first visit. Once a relationship is established, it can be considerably easier to make them feel comfortable during subsequent appointments. Kids who have access to professional care can enjoy better smile health, and they can be more likely to keep up with good dental care as adults. If you wish to set up a visit with Dr. Torrens-Parker or Dr. Lizardi, call Allen Family Dental in Allen, TX, today at (469) 342-6644. Located in Allen, we also proudly welcome patients from Frisco, Plano, McKinney, Fairview, and all surrounding communities.