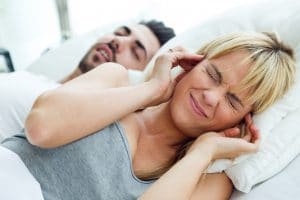 A snoring habit can make sleep difficult to come by for your partner, and it can make you feel self-conscious. With that said, are there health issues that accompany a snoring habit you should be concerned over? In some cases, yes – your snoring problem may be a symptom of sleep apnea, which can potentially create major problems for you. Patients who suffer from sleep apnea are having their sleep cycle broken throughout the night, and they can suffer the ill effects of sleep deprivation. If you are ready to put an end to your snoring problem, talk to your dentist. A snore guard can help you sleep quietly through the night. It may also be of value if you suffer from mild to moderate obstructive sleep apnea.
A Snore Guard Can Allow You To Sleep Peacefully…And Quietly
A snore guard is a special appliance made for you, which should provide a comfortable fit. You will insert this guard when you prepare for bed, and it can keep your breathing passages open during the night. If you have problems with sleep apnea, clearing your airway can mean resting through the night, without interruptions caused by a lack of oxygen.
Taking Advantage Of The Care Your Dentist Can Provide
Are you aware of what your dentist can do for you? If you are not a regular patient, you may have been completely unaware that your dentist could help you with a snoring problem. Routine care gives you protection against common threats like cavities and gum disease, but you are also enjoying access to treatment for snoring. In addition, you may be able to enjoy treatment for TMJ dysfunction, or TMD, which can be the cause of chronic headaches, and other pains.
Talk To Allen Family Dental About Your Snoring Troubles
At Allen Family Dental, you will enjoy access to treatment for a range of potential issues. On top of the standard protection against issues like tooth decay and gum disease, you can receive care for problems like snoring. To book your consultation with Dr. Torrens-Parker or Dr. Lizardi, call Allen Family Dental in Allen, TX, today at (469) 342-6644. Located in Allen, we also proudly welcome patients from Frisco, Plano, McKinney, Fairview, and all surrounding communities.