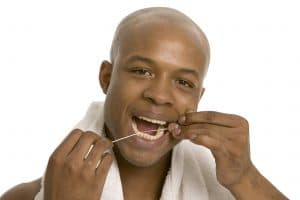 If you fail to practice effective preventive dental care, you can suffer consequences in the form of problems like tooth decay and gum disease. What should you be doing to make sure your smile is fully protected? There are measures you can take at home, but you should know that those daily efforts should be accompanied by professional dental cleanings. A cleaning is included at every routine dental exam. When patients combine this professional support with smart habits between visits, they can do a great job preventing problems.
How Flossing Offers Extra Protection For Areas Between Your Teeth
As important as it is to brush thoroughly and effectively, your daily care needs to include a flossing habit. Many people unfortunately neglect this step, thinking they can properly defend against problems by brushing alone. What you should know is that every time you floss, you work to remove plaque and food debris from spaces that your brush will not reliably reach. A failure to protect vulnerable spaces means you still run the risk of having cavities form, which means you can find yourself in need of restorative dental treatment.
Your Hygienist Can Do Important Work To Protect You From Cavities And Gum Disease
Your hygienist is able to provide valuable care to your smile every time you go in for a general dental exam. You can receive feedback about the condition of your teeth, which can include warnings about areas that may be poorly served by your daily care practices. Your hygienist is also removing tartar, which you will not be able to do when brushing and flossing.
Professional Care At Allen Family Dental Can Help You Prevent Cavities
How effective is your daily preventive dental care routine? If you are not fully confident in your current practices, you should make sure you give your smile the proper time and attention moving forward. You can also enjoy great preventive care by attending checkups at Allen Family Dental. To learn more about the exceptional care we give our patients, or to schedule an initial consultation with Dr. Torrens-Parker or Dr. Lizardi, call Allen Family Dental in Allen, TX, today at (469) 342-6644. Located in Allen, we also proudly treat patients from Frisco, Plano, McKinney, Fairview, and all other neighboring and nearby communities.