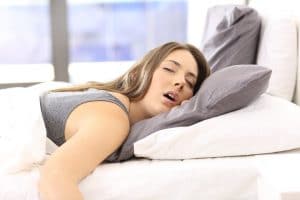 Snoring puts a strain on relationships, and can leave you feeling self-conscious. How can you put a stop to this embarrassing problem? Your dentist can actually help you by offering you a snore guard. When you place it in your mouth before you go to bed, the guard will keep your jaw positioned so that your airways are not blocked while you sleep. By keeping your breathing passage unobstructed, you can enjoy sound sleep without making disruptive noise. In cases where snoring is a symptom of obstructive sleep apnea, a snore guard may be able to help you rest without the use of a CPAP machine.
How A Snore Guard Lets You Sleep Without Loud Snoring
Why do people snore? The sound is produced when air travels through your breathing passages, and disrupts soft tissue partially disrupting it. In order to stop this blockage, your snore guard keeps your jaw in a position that keeps the airway free and clear.
The Value Of Attending Regular Preventive Dental Exams
Would you have expected your dentist to help you deal with a snoring problem? Patients who do not attend regular preventive dental exams can miss out on beneficial care, simply because they do not know it is available. In addition to the general evaluation and routine dental cleaning you receive at these visits, your dentist can discuss treatment for many other problems. For instance, people who experience chronic headaches and jaw pain often have problems connected to TMD, also known as TMJ dysfunction. Your dentist can recognize the symptoms this problem can cause, and they can recommend a helpful course of action that will provide relief.
Talk To Allen Family Dental About A Snore Guard
At Allen Family Dental, you can receive valuable help with a snoring problem. Your custom snore guard can help you rest easy, and avoid creating the lumbering snoring sound that embarrasses you, and keeps your partner up at night. If you are ready to discuss a snoring solution with Dr. Torrens-Parker or Dr. Lizardi, call Allen Family Dental in Allen, TX, today at (469) 342-6644. Located in Allen, we also proudly welcome patients from Frisco, Plano, McKinney, Fairview, and all surrounding communities.