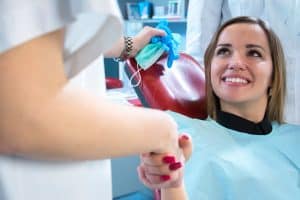 If you keep putting off a cavity treatment, you leave your tooth in a state of potential danger. After all, there will come a time where tooth decay causes irreversible harm, and can cost you your tooth! Different restorative dental treatments are used at different stages of cavity development. Smaller cavities that only affect your enamel can be removed, and your tooth can receive the support it needs with a dental filling. However, when decay goes deeper, and affects the inner chamber of a tooth, you will need to undergo a root canal treatment. By performing a root canal, your dentist will stop advanced decay, and protect you against bacteria that have infected your tooth's living tissue.
What Makes A Root Canal Necessary For Cavity Care?
A root canal is only necessary if you have a problem affecting a tooth's interior. By stopping decay before this occurs, you can eliminate the need for it. Patients who attend regular dental exams will have an easier time having cavities found and treated earlier in their development.
Providing Support For Your Tooth After A Root Canal Treatment
A root canal can spare you the loss of your tooth, but you will still need to do something to support it after receiving care. To keep your tooth safe, and to preserve your natural dental function, your dentist can supply you with a dental crown. Crowns provide important services after a cavity treatment. They protect you against future harm, and they allow you to continue using that tooth to bite and chew. When you use appearance-friendly materials like porcelain and zirconia, they can also benefit your appearance.
Scheduling A Root Canal At Allen Family Dental
At Allen Family Dental, you can count on quality care when you need a root canal performed. Our office can stop decay from destroying your tooth, and you can receive a dental crown that restores your appearance, and allows you to maintain good dental function. To arrange care through Dr. Torrens-Parker or Dr. Lizardi, call Allen Family Dental in Allen, TX, today at (469) 342-6644. Located in Allen, we also proudly welcome patients from Frisco, Plano, McKinney, Fairview, and all surrounding communities.