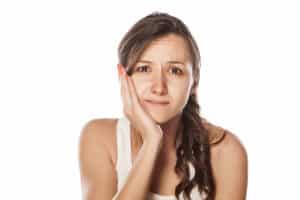 People who experience pains in their jaw, or suffer from limited movement, may be experiencing what is known as TMD. TMD refers to temporomandibular joint disorder, a problem that can lead to discomfort, and impact your ability to practice comfortable jaw movement. If you are showing signs of TMD, inform your dentist. They can supply you with an oral appliance that can help relieve strain on your jaw joints, while also talking to you about other techniques to help reduce discomfort. Over time, this problem can lead to a habit of grinding your teeth, which can lead to serious dental damage.
Dealing With TMJ Problems Can Provide Important Relief
If you are experiencing problems with your jaw joints, it can leave you in pain throughout the day. In fact, people who experience chronic headaches may be suffering from the consequences of TMD. Your dentist can help reduce the pain you feel, while also improving your jaw mobility and function. If your issues have led to your grinding your teeth at night, they can provide you with a special mouth guard that will help prevent this problem from creating dental damage. Without intervention, a teeth grinding habit can lead to you suffering damage that requires restorative dental care.
Stay On Top Of Your Oral Health Needs By Attending Regular Dental Exams
If you want to make sure you are aware of any potential oral health problems that might affect you, keep up with regular dental exams. Every time you go in for a checkup, your dentist is studying you carefully for any potential issues. Addressing TMD promptly means experiencing less discomfort, and avoiding potential complications like teeth grinding, or chronic headaches.
Allen Family Dental Can Help You Deal With Jaw Pain Caused By TMD
If you need help due to TMD, talk to Allen Family Dental. Our practice can help to address this problem, so that you are free from the discomforts it creates, and the limitations it can place on your jaw function. If you are interested in an appointment with Dr. Torrens-Parker or Dr. Lizardi, call Allen Family Dental in Allen, TX, today at (469) 342-6644. Located in Allen, our practice also proudly welcome patients from Frisco, Plano, McKinney, Fairview, and all surrounding areas.