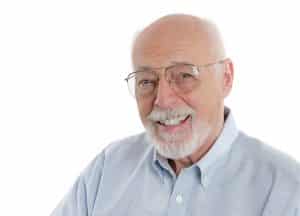 How does a dental bridge stay permanently in position? What do you gain from having a prosthetic that is fixed in place? Patients who have lost a single tooth, or have lost several teeth in one area, can have a custom bridge made to fill the gap in their smile. By using a pair of dental crowns secured on neighboring teeth, the dental prosthetic will be locked in position. When you have permanent support for your restoration, it can be easier to bite and chew, and can feel more comfortable in general. If you are interested, you can talk to your dentist about relying on a dental implant to hold your bridge.
How Permanent Prosthetic Support Can Benefit Patients
Permanent prosthetic support creates a kind of support that can make biting and chewing easier. You can trust an affixed bridge to hold up against pressures so that you no longer have to work awkwardly to avoid an area of your smile affected by tooth loss. This means less strain on your jaw joints, which can reduce your risk for developing chronic TMJ pains.
Discuss Dental Implants With Your Dentist If You Want To Address Tooth Loss
Dental implants are able to successfully secure a restoration for many years. By using a dental implant to hold your bridge in place, you can enjoy the benefits of a permanent prosthetic, while also benefiting from how your implant supports your jaw health. Even with a prosthetic in place, patients can lose jawbone mass over time due to the absence of tooth roots. Implants can pick up the function of those roots, to stop this deterioration from occurring.
Talk To Allen Family Dental If You Are Interested In How A Dental Bridge Can Help You
Are you ready to do something about a gap in your smile? At Allen Family Dental, we can help you enjoy a securely held dental bridge. This will allow you to make a beneficial correction after losing one – or several – teeth. If you would like to discuss prosthetic dental care with Dr. Torrens-Parker or Dr. Lizardi, call Allen Family Dental in Allen, TX, today at (469) 342-6644. Located in Allen, we also proudly care for patients from Frisco, Plano, McKinney, Fairview, and all nearby communities.