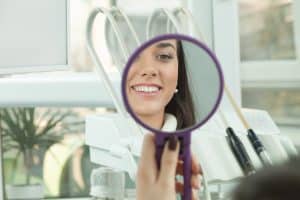 When some patients learn they need to undergo a restorative dental treatment, several fears may flash through their mind. They can worry about the discomfort, or the need to find time in their schedule to arrange an appointment. One thing you may worry about is how you will look after a cavity is treated. When you receive a filling or a crown, how will you look? You can be relieved to know that modern dental materials actually allow your dentist to provide you with discreet cavity care. Composite resin fillings offer subtle support, and porcelain and zirconia crowns both offer protection that will not disrupt how you look.
How Your Dentist Chooses What Kind Of Restoration You Need
How does your dentist decide what sort of restoration needs to be provided after a cavity treatment? They will make their selection based on the degree of damage ultimately done by your cavity to your tooth. If a filling is able to provide enough support for your tooth, then your dentist will use it. However, if your tooth needs more protection than a filling offers, then a crown will be required.
The Relationship Between Dental Checkups And Cavity Care
One big benefit to regular dental checkups is that you can reduce your overall risk for having a cavity develop. This is because you are receiving updates about the condition of your oral health, and because you enjoy a routine dental cleaning at each appointment. When patients who come in for checkups do have cavities, your dentist can spot it during an exam, and provide the appropriate restorative care earlier in that cavity's formation.
Arrange Your Cavity Treatment At Allen Family Dental
At Allen Family Dental, you can look forward to expert care whenever you need treatment for a cavity. The right restoration will ensure you have the support your tooth needs, while also allowing you to keep your smile looking good! If you wish to set a time to meet with Dr. Torrens-Parker or Dr. Lizardi, call Allen Family Dental in Allen, TX, today at (469) 342-6644. Located in Allen, we are also proud to offer professional dental services patients from Frisco, Plano, McKinney, Fairview, and all surrounding communities.