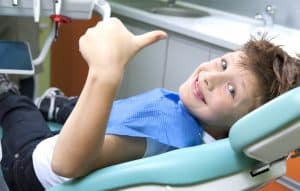 How important are dental checkups for young children? The care your dentist provides during each visit can help them keep their teeth healthy. The exams provided at each visit can also keep you informed about potential developmental problems – catching problems at an earlier age can make treatment more manageable. There are big advantages gained by bringing your young child in for ongoing checkups. However, one benefit you may not have considered is how your child can benefit from learning about their oral health at these appointments. Kids who are taught the value of good oral care, and made to feel comfortable in their dentist's office, can be less anxious about dental treatment, and be better prepared to protect their teeth.
Teaching Your Child To Care About Their Oral Health Can Have Life-Long Benefits
You can help instruct your child on proper brushing and flossing form in their early years. When these lessons are reinforced by your dentist, it can ensure that they have the guidance they need to practice smart care as they grow older. This means fewer cavities in their later years, when they are entrusted to handle brushing and flossing on their own.
Avoiding Dental Anxiety By Helping Young Children Feel At Ease At The Dentist's Office
If your child only sees the dentist because something is wrong, they may start to associate the dentist's office with feelings of unpleasantness. That can cause feelings of anxiety to develop, which will make them less likely to keep up with regular dental exams when they are adults. Creating a comfortable environment for kids is important, which is why your dentist takes care to make them feel welcome, and to provide an inviting space for them when they arrive at the office.
Talk To Allen Family Dental About Pediatric Dental Care
At Allen Family Dental, you can bring your child in for expert preventive care. These visits also provide your dentist an opportunity to help teach your kid the importance of good oral care, and to help them feel comfortable in the dentist's office. To schedule your consultation with Dr. Torrens-Parker or Dr. Lizardi, call Allen Family Dental in Allen, TX, today at (469) 342-6644. Located in Allen, we also proudly welcome families from Frisco, Plano, McKinney, Fairview, and all surrounding communities.