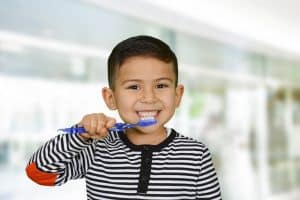 You deserve to feel confident about your smile at any age. With proper care at home, and regular dental exams, this is something you can accomplish. For young patients, early dental visits will involve helpful guidance on how to properly brush and floss, as well as explanations of why oral care is important. Many people worry about changes taking place with their teeth as they grow older. You can lose layers of your enamel over time due to the friction created by biting and chewing. This can have a potential effect on your appearance. No matter your age, your dentist can help you undergo the necessary care to enjoy your best possible oral health.
How Your Age Can Affect The Kind Of Oral Care You Need
Young children have had less practice at keeping their teeth clean, and have less information regarding why this kind of care is important. You can help them by making sure they are regularly seeing their dentist, so that their smile receives important attention, as well as to ensure any problems are identified, and promptly taken care of.
For older patients, challenges can arise because of extenuating factors. For instance, patients who need to take certain medications can experience an increased cavity risk because of dry mouth. Wear and tear on teeth over time, and possible issues with your periodontal health, can also create complications that will call for attention from your dentist.
Make A Life-Long Commitment To Keeping Your Smile Healthy
If you want to make sure you show a lasting commitment to your smile, make sure you regularly receive professional dental care. That means going in for routine exams, and enjoying regular cleanings from your hygienist. By establishing a commitment to professional preventive care, you can ensure access to the kind of care you need to keep your smile healthy over the years.
Talk To Allen Family Dental To Schedule Preventive Dental Treatment
If you want to maintain a healthy smile, or if you are worried about your child's smile, count on expert care from Allen Family Dental. Our office is committed to providing patients of all ages with great treatment. To meet with Dr. Torrens-Parker or Dr. Lizardi, call Allen Family Dental in Allen, TX, today at (469) 342-6644. Located in Allen, we are also proud to welcome families from Frisco, Plano, McKinney, Fairview, and all surrounding communities.