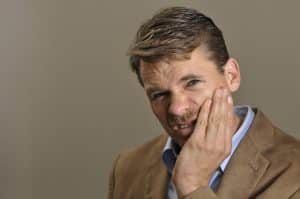 If you start to notice problems with your jaw cropping up, like difficulty in jaw function, or chronic pain, you could be exhibiting signs of TMD. TMD refers to problems with your temporomandibular joints (your TMJs – people sometimes refer to the condition itself as "TMJ"). If you feel you may have this problem, discussing it with your dentist can lead to help. A special oral appliance will be constructed to help keep your jaw in a more comfortable position. If you are experiencing jaw issues, you may also find that you are grinding your teeth while you sleep. This issue, bruxism, can also be addressed by your dentist.
Bruxism And TMD Can Cause Serious Problems If Nothing Is Done
Bruxism and TMD are both capable of causing lasting problems if you do not set an appointment to have these issues addressed. As your TMD problems go untreated, you can find yourself suffering pains in your face, neck, and head, while also finding it difficult to operate your jaw. Grinding your teeth with enough force will lead to dental damages, which may be serious enough to require restorative dental care.
Regular Checkups Provide Opportunities For Early Detection And Treatment
During a routine dental appointment, your dentist can identify symptoms of bruxism and TMD, and discuss treatment with you. Ongoing dental visits can be valuable to your oral health, as you will be kept informed about any issues that might need to be addressed. Between the regular teeth cleanings you enjoy, and the early intervention for problems, preventive appointments can have a profound impact on your oral health.
Talk To Allen Family Dental If You Are Experiencing Jaw Pain
Jaw pain is not something you should feel you have to simply ignore. At Allen Family Dental, you can receive the care you need to address problems like TMD and bruxism, so you can avoid discomfort, and maintain a healthy smile. To learn how Dr. Torrens-Parker or Dr. Lizardi can help you, or to schedule your next visit, call Allen Family Dental in Allen, TX, today at (469) 342-6644. Located in Allen, we also proudly take care of the smiles of families from Frisco, Plano, McKinney, Fairview, and all surrounding communities.