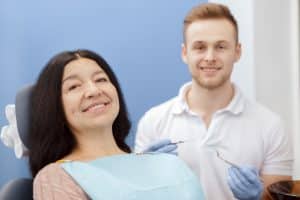 No dentist would ask you to be excited about needing a root canal treatment, but you should recognize the procedure's importance when you have a serious tooth problem. While people may recognize the term as a type of dental work, you may not understand what role a root canal plays in restorative dental treatment. A root canal is used for some, but not all, cavity treatments. The reason your dentist takes this approach is to address tooth decay that has reached the pulp, or the interior of your tooth. Stopping a cavity at this stage is important – if nothing is done, the tooth can be irreversibly harmed, and more health problems can occur.
Why You Might Need A Root Canal Treatment
If you have left a cavity untreated, the spreading decay can harm the interior of your tooth. To combat this, your dentist will perform a root canal, and attack the problem. When this occurs in time, your dentist can spare you from losing that tooth. You should know that it is not always a cavity that calls for a root canal. Some injuries to a tooth make this treatment necessary, too.
Your Smile After A Root Canal
So what will become of your smile after one of your teeth undergoes a root canal treatment? The amount of dental material taken during treatment will require more support than you will receive from a dental filling. To make sure your tooth has the full protection it needs, your dentist will place a dental crown. The crown can be made to look like a natural tooth, so you can come away from treatment without a noticeable restoration in your smile.
Call Allen Family Dental If You Need A Root Canal Treatment
If you need a root canal treatment, take the problem seriously, and make sure you have your treatment promptly performed. At Allen Family Dental, you will find a staff dedicated to providing you the most comfortable and happiest possible experience, even when you face something like a root canal. To learn more about the exceptional services we offer, or to schedule an initial consultation with Dr. Torrens-Parker or Dr. Lizardi, call Allen Family Dental in Allen, TX, today at (469) 342-6644. Located in Allen, our office also proudly welcomes patients residing in Frisco, Plano, McKinney, Fairview, and all surrounding communities. Our patient forms are conveniently located online.