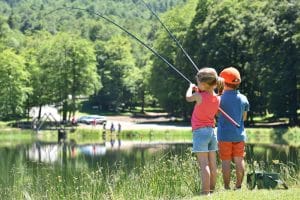 On Saturday, May 6, Allen's younger residents can come out to compete in the Youth Fishing Derby. The competition is set to take place at Bethany Lakes Park. The competition will be divided up by age group, and the winner will be based on the largest fish caught. An overall prize for the largest fish will also be rewarded. The Youth Fishing Derby is a great way to encourage your child to take advantage of Allen's natural resources, and a great excuse for you and your family to enjoy a day at Bethany Lakes Park.
When:
The Youth Fishing Derby is scheduled to take place on Saturday, May 6. The event will run from 8 am until 10:30 am, and the check-in will begin at 7:30 am.
Where:
The competition will be held at Bethany Lakes Park, which is located at 745 S. Allen Heights Drive (Allen Heights and Bethany).
Cost:
Registration for this event is free of charge.
Activities Include:
Allen's young residents can take part in a competition (divided by age group) to catch the largest fish in Bethany Lakes Park. In addition to picking winners by age group, the child who catches the largest fish overall will also be recognized.
For More Information:
For more information about this event, click here. You can also email [email protected] for additional details.
Schedule A Dental Appointment At Allen Family Dental
If you do not have regular dental exams scheduled already, take a moment to consider the oral health care you are missing out on. When you come in to Allen Family Dental for a routine visit, you receive an expert teeth cleaning, and a close examination from your dentist. To schedule an appointment with Dr. Torrens-Parker or Dr. Lizardi, call Allen Family Dental in Allen, TX, today at (469) 342-6644. Located in Allen, we also proudly accept patients from Frisco, Plano, McKinney, Fairview, and all surrounding communities. For your convenience, we have patient forms available online.