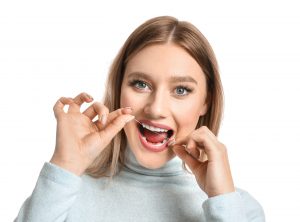 Studies from the Centers for Disease Control show that half of adults over the age of 30 suffer from periodontal disease. The advanced stage of the disease is linked to issues like tooth loss! Fortunately, in today's blog, your Allen, TX, dentist offers a few simple tips for avoiding the onset of gum disease, and recognizing the warning signs.
The Causes of the Disease
What causes periodontal disease? The issue starts when the gums become inflamed, also known as gingivitis. This could occur as a result of plaque buildup, which forms due to poor oral hygiene habits. Smoking cigarettes or using other tobacco products could be a factor. Other causes include inflammatory illnesses, certain medications, and a family history of periodontal issues. At this stage, you may notice your gums appear redder than usual, feel sore, and bleed easily. Unless treated, the gums could pull away from the teeth and form pockets for bacteria to enter, which then leads to the onset of the disease.
Care at Home
To help protect your smile at home, you should try to cut back on sugary foods and drinks, as this feeds harmful oral bacteria, and creates plaque buildup. You could also develop plaque buildup due to improper brushing and flossing habits. You should brush your teeth when you wake up and again before bed for about two minutes each session. Make sure you use a fluoride toothpaste too! You also need to floss every evening, as this removes the bits of food caught between teeth or in the gum line. Try to avoid tobacco products too and let us know if you experience changes to your smile. Remember, gingivitis can be reversed, but periodontal disease cannot!
Checkups and Cleanings
You also help prevent the disease by seeing us every six months. With a checkup, we watch for the warning signs of trouble, offering care to reverse gingivitis or manage gum disease, preventing the late stages linked to tooth loss. We also clean the teeth, a procedure that uses an ultrasonic scaling device to break up and remove buildup, protecting the smile from inflammation. If you have developed gingivitis or the early stages of gum disease, then we could recommend a deep cleaning, known as a scaling and root planing, to remove buildup from the teeth and roots. If you have any questions about preventing or managing this serious disease, then please contact our team today. We want to help you enjoy a stronger, healthier smile for years to come!
Talk To Your Allen, TX Dentist About Addressing Periodontal Disease
Our team knows how to treat and prevent issues like periodontal disease. To find out more about keeping smiles healthy, whole, and strong, please contact your Allen, TX, dentist, Dr. Torrens-Parker, by calling 469-342-6644.