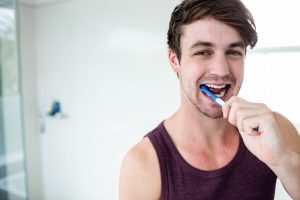 What kind of approach should you take to brushing your teeth? Consistency is important, and it also helps to be thorough every time you clean your smile. While some people believe that aggressive brushing will help them guard their enamel against food debris and harmful bacteria, this approach can actually lead to unintended problems. Forcefully brushing can wear down enamel, leading to premature erosion that makes you more susceptible to oral health issues. Aggressive motions will not help you remove tartar, and relatively gentle movements are enough to clear away plaque and food particles. Our Allen, TX dentist's office is prepared to help patients maintain better routines. We can discuss what you should do for your smile during a routine dental exam, and we can help you keep a healthy smile by performing a teeth cleaning at your appointment.
The Trouble With Aggressive Brushing
Using more force to brush your teeth will not remove tartar for you, and it is not necessary for removing plaque. You should also be concerned about the force of your brush movements because you may be creating friction that speeds up your rate of dental wear and tear. Realizing this should help you see why this is a habit to avoid. If you want to protect your teeth more effectively, make sure your routine is a consistent one, and that you are taking at least two minutes to clean every part of your smile. Remember that you should also floss on a daily basis, as your brush is not effective at cleaning between your teeth.
How Can I Deal With Tartar Formation Between Appointments?
Tartar buildup is something that should concern you. Unfortunately, it is not something that you can address on your own time. To fight tartar, you should schedule a preventive dental cleaning and evaluation. When your hygienist cleans your teeth, they will identify and remove all of the tartar that has formed on your smile since your last visit. The removal of tartar helps you prevent cavities, and it helps you stay safe against gum disease.
More Brushing Changes That Can Benefit You
Your teeth are not the only things that can wear down over time due to the friction from brushing. As time passes, the bristles of a brush will fray, making them less effective at removing harmful debris and microbes. Switch to a new toothbrush every three months, or even sooner if signs of fraying are already present. You should also confirm that your toothpaste has been ADA-approved, and that fluoride is one of its ingredients.
Our Allen, TX Dentist's Office Can Help You Keep Your Smile Safe!
Your Allen, TX dentist's office helps patients of all ages maintain healthy, attractive teeth through quality preventive care. To find out more about our preventive services, or to discuss any other forms of care we offer, please call Allen Family Dental at (469) 342-6644.