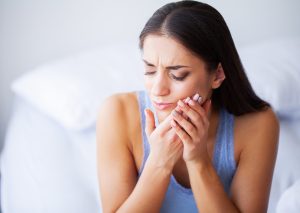 Tooth pain is hard to ignore, and it can cause real alarm for you. Even if the pain feels manageable, you can be unsure of why you have this problem, and what treatment might involve. Our Allen, TX dentist's office is prepared to take care of you if you have a dental emergency related to tooth pain. With that said, you can benefit from measures that help you control your level of discomfort and avoid future issues with pain or sensitivity. While some problems that cause dental pain are already serious enough to require restorative dental work, it may be possible to protect yourself if something like pain from teeth grinding is responsible for how you feel.
Serious Tooth Pain May Call For Emergency Dental Work
If you have serious pain, if you see swelling at the area where your tooth is hurting, or if you have experienced the same discomfort for an extended period of time, it can be time to reach out for urgent care. A problem that impedes your quality of life is not something to take lightly, and it is possible that pain from an infection will cause complications if no treatment is arranged.
Managing Discomfort At Home
If your pain is more generalized, or if it frequently affects you during the mornings, it may be linked to nightly teeth grinding. Try to create the most relaxed environment possible before going to sleep, pay attention to any sense of tension in your jaw or face, and cut back on alcohol and caffeine to avoid issues with grinding.
If your pain is specific to a tooth, you can control discomfort until you see someone with over the counter pain relievers, and with the use of a cold compress. One thing to remember is that if the tooth is sore or sensitive, it may be vulnerable to more harm if you put pressure on it.
A Sinus Infection Can Cause Feelings Of Discomfort In Your Teeth
Not every problem with tooth pain or sensitivity will lead to a root canal procedure or other treatment. Sometimes, feelings of pain can actually be traced back to a sinus infection. While it can be less than ideal to feel under the weather, you should be aware that this might be responsible for your tooth troubles. Take care of your body, rest properly, and the problem can subside as your well-being improves.
Allen Family Dental Provides Dental Services To Allen, TX Families
At Allen Family Dental in Allen, TX, patients in and around our community receive important preventive services from us on a regular basis. In addition to offering preventive care, we can provide restorative, cosmetic, and prosthetic services. To find out more, please call our Allen, TX dentist's office at (469) 342-6644.